During the first weekend in November I thought it would be a fun idea to head out for a little trip. Last time we did this we went to Mt. Charleston for the day. I didn't want to do the same old thing; I wanted to do something different. I received inspiration from one of the photoblogs I read daily. This photoblog had recently showcased some images from the Valley of Fire State Park that is located about an hours drive to the north(map), and I thought that it would be a fun excursion for Saturday the 3rd.
Of course we didn't get out the door nearly as early as I would have liked. Combine that with the fact daylight savings time had just ended made our trip feel really short, but we still had a good time. Here is a picture of Lexi and Dawn at the first place we stopped in the park.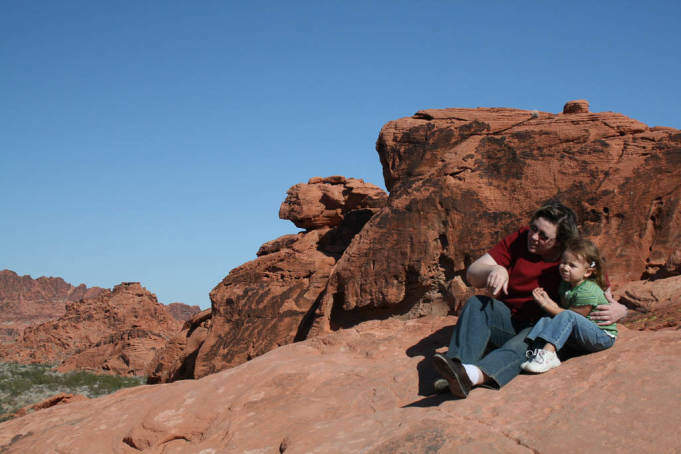 Here is another picture of all of us on the same rock as pictured above.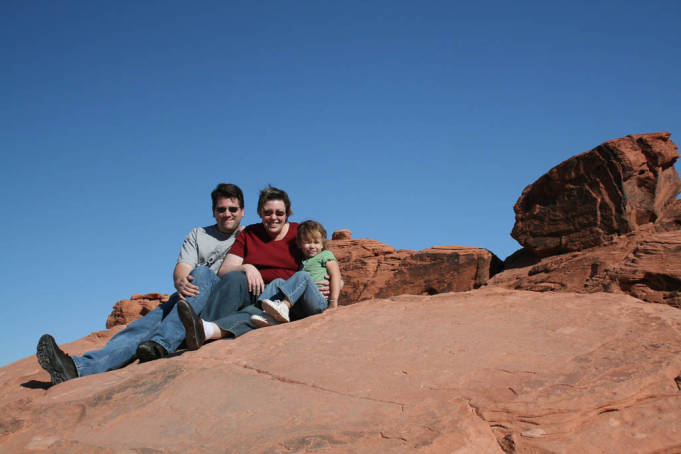 We continued to go from area to area throughout the day. There was really some beautiful scenery throughout the entire park. One of the areas that we stopped at had some petroglyphs available for viewing. While I was on the valley floor snapping pictures of the various rock formations, Dawn took Lexi up this huge flight of stairs to take a look. Here is a picture of the two of them. I took this with my camera zoomed in as far as it would go, and you can still barely see them!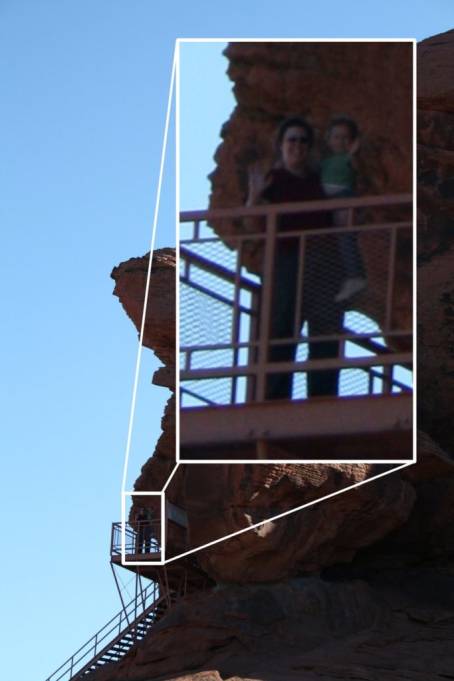 Overall I would say that we spent about 3-4 hours going throughout the park from formation to formation.
In Rowe tradition we couldn't go back home the same way that we came. So in anticipation, I had decided that on the way home we would come back through the community of Overton(map). On our way there I told Dawn that I wanted to try to find a place to eat that wasn't a national chain. Good thing because, when we got there, we didn't have any choice. The only national chain available was McDonald's, and that was the last place I wanted to eat dinner. Thankfully, we found a little place to eat dinner, and were pleasantly surprised by the good food and service.
The entire outing was a great success, and we found a new and interesting place to venture off to on the long boring weekends.