During our Halloween weekend in California, Grandma and Grandpa came up with a great idea for a little adventure. Nearly an hours drive due east there lies a little community in the San Bernardino Mountains named Oak Glen. The area itself is tucked up into a valley and surrounded by locally owned apple orchards. Grandma and Grandpa had thought that it would be fun to take Lexi and let her pick some apples straight from the tree.
We all hoped in the car, and made the quick drive and almost got turned around only once. Along the way we were proceeding up one of the roads and suddenly everything wasn't familiar to Grandma and Grandpa so we thought we had made a wrong turn. I stopped at a fast food place and asked (I know imagine that) if we were on the right road and was told we were. So I jumped back in the car and away we went.
Arriving at the first area that looked like a place to stop we pulled over. When we got out and started looking around there were a couple shops and a restaurant. We took our time and made sure to take a look at everything. Unfortunately there wasn't really much for Lexi to do.
So we all packed back into the car and continued up the road in hopes of finding an orchard that lets the public pick apples. We came across this little store and we stopped in to take a look around. It was a quaint little store where when you walked in you were greeted immediately and offered a piece of one of the many varieties of fruit they had available for sale. The entire time the people were friendly, and there was never any hint of pressure to purchase anything, like what you experience in other tourist trap type areas. Grandma and I purchased a couple things, and asked about an orchard that would suite our needs. We were told exactly where to go so we were off again.
We had finally found our destination!! After finding a place to park we proceeded to the entrance. The staff gave us all a run down of how everything worked and the rules and regulations of the orchard. Before long, we were off and cruising around the orchard looking for a good tree to pluck some apples from. Here is a picture of Lexi with one of her prizes: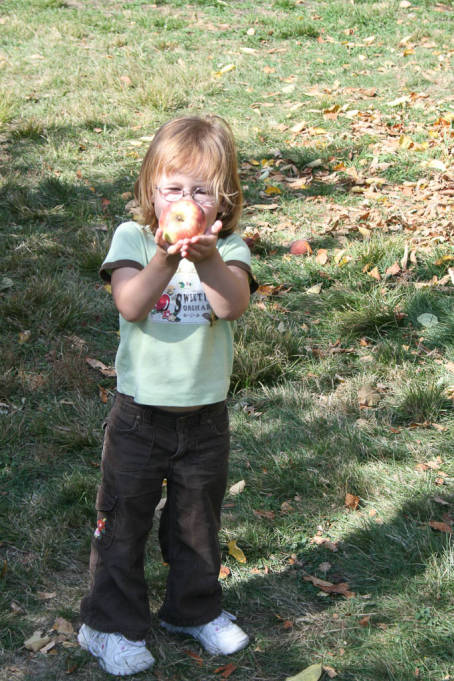 Unfortunately all the adults in our party were apple picking illiterate. Luckily someone with the orchard was gracious enough to help us in our quest. In a matter of no time we had filled our little bag with apples and made our way to the exit. Here Lexi is waiting for the store area to clear out so we could pay for our freshly picked apples. I guess we are just boring her to death.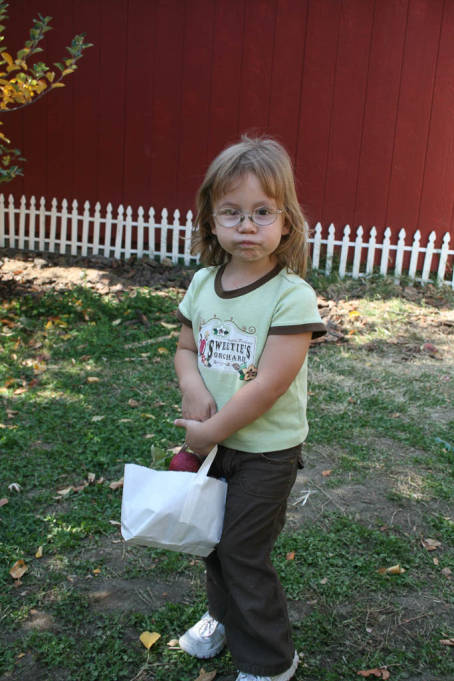 Once we were all paid for we piled back into the car and doubled back to the first area we stopped at to get a bite to eat. I don't recall exactly what we all got for lunch but I will say that it was pretty good. The highlight was definitely dessert!! Next door to the restaurant was a little bakery that specialized in apple deserts and pastries. We stopped in and if my memory serves Grandma and Grandpa got pie and ice cream that they shared with Lexi. I got an apple fritter and a whole pie to take home to the little darling. All agreed that the desserts were grade A!!
With our stomachs full and legs tired it was time to get back into the car and head home. I don't think we even made it back to the interstate before Lexi was fast asleep with Grandma and Grandpa following close behind.